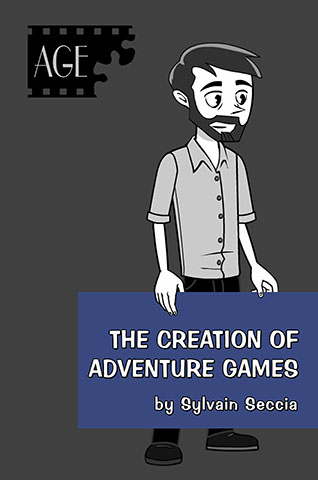 The creation of adventure games [EN]
PDF
This book, written by the AGE software developer, will introduce you to the creation of narrative adventure video games and improve your mastering of the software to market your future works on Windows, UWP, macOS, iOS, tvOS, Android and WebGL.
Depending on your level of experience, you will learn how to handle at your own pace all the editors present in the AGE software, for example:
The scenario editor to structure your narration
The object editor to create your characters and objects
The scene editor to build your levels
The dialogue editor to write interactive conversations
You will also discover the subtleties of the proposed tools and good practices to adopt right from the beginning.
AGE is an ad-free software available for free and intended primarily for writers, artists and game designers who do not necessarily have the programming skills to develop a video game using a complex language or engine.

8 EUROS
AFTER THE PAYMENT, YOU WILL RECEIVE AN EMAIL AT SHORTLY WITH A LINK TO DOWNLOAD THE FILE. THIS LINK WILL BE AVAILABLE FOR 48 HOURS.
I value and respect your personal data and privacy. To view my privacy policy, click on the link below. By submitting this form, you agree that I may process your information in accordance with these terms.