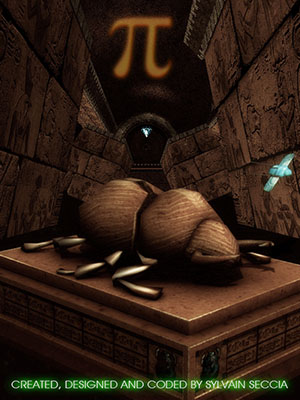 Pi
is based on an original game concept because it is both a 3D racing arcade game, a platform game, a puzzle game and a first-person shooting game in one for Windows. The player can go through eras such as ancient Egypt, medieval and sci-fi worlds to unlock the mysteries of the Pi number.
A racing arcade game: you pilot your vehicle against the clock through a 3D tube and around various obstacles in 360 degrees to collect all the gems and complete the level.

A platform game: you will have to jump and drive smarter on static and moving platforms to reach some inaccessible gems

A puzzle game: some obstacles are more difficult than others because you must first understand the puzzle and then find out how to solve it

A first-person shooting game: kill enemies!...
Features
Original game concept
Three exciting worlds: Ancient Egypt, Medieval and Sci-Fi
20 levels to succeed: 12 classic levels and 8 racing levels
One more level for the Boss
Three difficulty modes
Record your best times (Ghost mode)
Original instrumental metal tracks
Add your own music mp3 files
Keyboard, Old-style Joystick and Xbox 360 Controller supported
Optimized for ultra wide monitors (2.39:1)
In other words, this game proves a worthy challenge for newbie and hardcore gamers.
Pi
will not let you feel free!...